Check out the new Colorado ZR2 Bison
September 30 2018,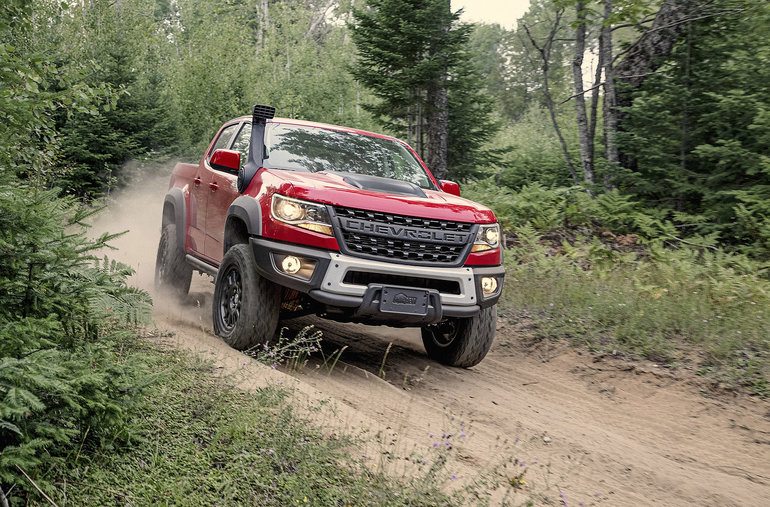 Chevrolet is giving Colorado ZR2 buyers that want to do some extreme off-roading one more option. The all-new ZR2 Bison is a beefed-up ZR2 with maximum protections under the body, a different and exclusive Chevrolet-lettered grill (no bow-tie) and plenty of other features as well.
"Half of Canada's Colorado buyers are choosing Z71 or ZR2 models that provide incredible off-road capability without sacrificing on-road drivability," said Doug Kenzie, national marketing manager for Chevrolet trucks in Canada.
"The Colorado ZR2 offers incredible levels of off-road capability with a two-inch suspension lift, class-exclusive front and rear locking differentials and Multimatic DSSV™ dampers. With Bison, we now offer customers an even more extreme turn-key off-road truck that is ready to help you find new roads."
The 31-inch Goodyear Wrangler Duratrac off-road tires sit beneath larger fender flares and wrap all-new, ZR2 Bison-specific 17 x 8-inch aluminum wheels.
This new Colorado variant also features "Bison" decals on the bed sides, an "AEV Bison" logo on the tailgate and embroidered AEV logo floor liners and front head restraints.
"We've been following Colorado since its introduction, and the ZR2 really captured our attention," said Dave Harriton, founder and president of AEV. "As this is the first Chevrolet vehicle we've given the AEV treatment to, we wanted to do something special with the industry's first use of hot-stamped Boron steel. We also expect that Colorado drivers will love the added ruggedness of our front and rear bumpers on ZR2 Bison."
The ZR2 Bison also duplicates the full equipment list of the Colorado ZR2, including, but not limited to:
Class-exclusive front and rear locking electronic differentials.
Revolutionary, segment-exclusive Multimatic DSSVTM dampers.
Off-road rocker protection.
Cast-iron control arms.
Autotrac transfer case.
Like ZR2, Bison also features a modified rear axle with a 3.42 ratio, front and rear tracks widened by 3.5 inches and a factory suspension lifted 2 inches over a Colorado Z71.
Available options on Bison include:
2.8L Duramax Turbo-Diesel engine paired with a six-speed automatic transmission, capable of 186 horsepower and 369 lb-ft of torque.
Choice of crew- or extended cab configurations (including short and long beds, respectively).